What are Sight Words? & Sight Words For Kindergarten (LKG & UKG)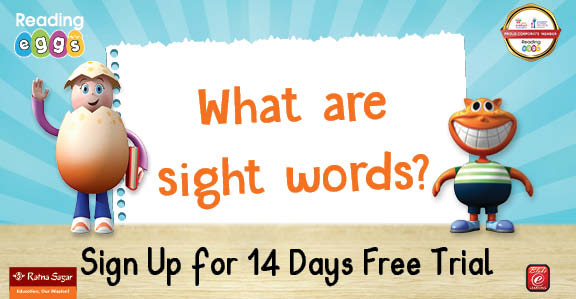 What are Sight Words? & Sight Words For Kindergarten (LKG & UKG)
Sight words are words that are seen and read in the text more often by kindergarteners. In simple terms, these are high-frequency words that the children catch up with at a fast pace. A fair share of 50-75% of the children's textbooks contains sight words from pre-primer & primer Dolch words.
Why should we teach sight words?
Sight words are the first step that a child takes towards remembering and fastening the pace of reading. It is important to learn and practice sight words for 4 year olds regularly. Then the child starts using these small words in a natural setting. It helps them in getting better with their speaking skills.
How many sight words are taught to children?
There are a lot of sight words in the English language. Generally, the children are taught 52 sight words at the kindergarten level but you may find 100 sight words kindergarten in your first search. Once a child memorises and understands these words, it becomes easy for him to fluently read a long passage. Sight words at the kindergarten level are: 
am, are, at, all, be, ate, black, but, came, brown, but, came, did, do, eat, four, get, good, have, he, into, like, must, new, no, now, on, our, out, please, pretty, ran, ride, saw, say, she, so, soon, that, there, they, this, too, under, want, was, well, went, what, white, who will, with, yes.


How do children find sight words?
Well, cramming some words to add to their vocabulary does not help them in the long term. It can be a challenge for teachers as well as for parents to devise and implement certain techniques so that the child understands the correct usage of the word. For instance, the child remembers the word 'black' but does not know what black colour looks like. This does not support the ability to interpret and comprehend the words. So, here are some tricks which help the child to find sight words and recognise them: 
Writing in a rainbow: Children just love colours. They enjoy drawing, filling colours, and creating the characters of their imagination. A wonderful way to incorporate learning with creativity is to create a colourful rainbow of sight words. This way, students learn at least 7 words in one go. The names of the colours used and what a rainbow looks like are the simple things that children learn from this activity altogether.
Missing words: Take out printouts of sight words and leave one or two blocks. Children can find the right letters of the alphabet to make the correct word. This hunt for the right letters will help them memorise the words.
Sight words in complete sentences
The purpose of teaching sight words is to recognise them in sentences. The beginning is with short sentences. For instance, "I am a boy." The sentence gives the child an idea of the sight words and what the sentence means. They get clues and pick the sight word amidst any sentence. This exercise develops their reading and comprehensive abilities.
Sight Words with pictures
Some sight words are difficult to illustrate. It is because they are too simple. So, a pictorial representation of such words would encourage children to notice the same pictures around them. This is more of a practical approach to teaching them sight words. They will learn to communicate these words in their daily lives. Flashcards with pictures are one way where the children can create their illustrations to remember the word.
Online apps and games
For more literacy and word practice for kindergarteners, Reading Eggs is the best programme. The Stepping Stones Reading lessons are the core of the Reading Eggs learn-to-read programme. Each lesson builds on the previous one to build skills in the five key areas needed to become a good reader: phonemic awareness and phonics, sight words, vocabulary, fluency, and comprehension. 
The lessons are ccategorized into three broad levels with 40 lessons in each level.
Level 1: For absolute beginners, lessons 1 – 40.
Level 2: For emerging readers, lessons 41 – 80.
Level 3: For early readers, lessons 81 – 120.
Reading Eggs is designed by a team of literacy experts. The programme includes over 3500+ online books for kids — each ending with a comprehension quiz that assesses your child's understanding. They recognize these sight words by creatively designed popping balloons or crossing levels to get into thrilling challenges and win!
Reading Eggs makes sure that they learn, practice, and win rewards every day. 
To make learning even more fun, check out our 14 days free- trial of the Reading Eggs programme by clicking on the button below
Read More..
Where are phonics classes available?