Top 10 skills of reading to learn for kids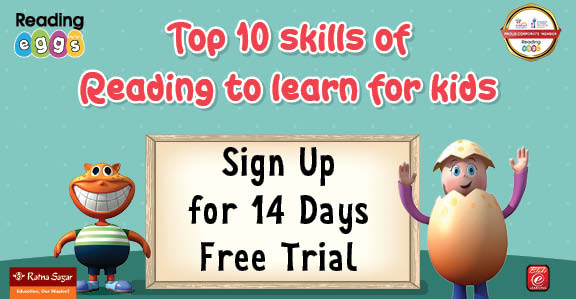 Top 10 skills of reading to learn for kids
When should you start teaching reading to your kids?
Teaching reading to children is teamwork in itself. Parents, teachers, and children themselves play a significant role in the development of any skill. Be it taking steps or starting to read, traditionalists believe that a child shows his eagerness to learn through his actions. Now, it becomes the responsibility of the elders to start working on nurturing their skills in them. So, there is no particular age to begin or end learning. Learning itself is a never-ending process.
Young children are eager to express themselves. To teach them the language of this world, it is vital to captivate them with good reading skills and speaking skills. Regular practice and communication are the key activities, to begin with.
Benefits of developing reading skills in children at an early age
Entertains them and boosts their imaginatio
Reading is an escape. It gives us someplace to go and create our place with imagination. Toddlers and children are hyper-active in imagination. Reading gives their imagination a positive light. It helps in empowering their creativity. That's why 'children's books are different. They talk about the adventures of a prince, rescue, and a sweet happy ending. Reading entertains them and helps in building a happy castle inside their young mind. 
Improves their grammar and writing skills
No wonder improved reading skills also impact the child's grammar and skill development. It is advised that children should practice reading daily to get good command over writing. There are fewer chances of grammatical errors because then the child becomes aware of the correct usage of the words in the sentences.
A better understanding of their surroundings 
Communication is the skill of a lifetime. By reading and knowing words, children develop a better understanding of their surroundings. The common objects, their names, and other words associated with them, all this knowledge comes from reading and helps them generate meaning.
Top Reading Skills
There are a lot of words children have heard around but are unaware of how to write them. A proper interpretation of words is a crucial step in elevating their reading skills. Decrypting involves child's phonemic awareness. They learn it by familiarizing letters, sounds, and syllables.
Phonics serves the purpose of identifying the relation between sounds and letters. This is done by the articulation of sounds into written words. Children focus on sounds and then write and pronounce words.
With continuous reading, children improve their vocabulary which is a storehouse of words. Vocabulary is an important element of academics. Along with words, their meanings, relevant definition, and context are comprehended by the child.
A fluent speech is a marker of good communication skills. It means that one is reading with better understanding, accuracy, and speed. Children who are fluent in reading, speaking at a good pace with a proper texture and tone.
Sentence formation seems like more of a writing skill but it is a reading skill. Some kids face the issue of not reading proper sentences. Daily reading practice helps in eradicating these problems. This will also teach them to respect the punctuation marks and make judgments if the sentences are complete or not.
Reading comprehension and memory
To understand the meaning of the written text – reading comprehension and memory are important skills. In fiction, the child imagines the characters and shares a unique bond with them. On the other hand, non-fiction gives them information that broadens their knowledge. Reading comprehension is a time-consuming process and the child gets command of it gradually.
Common reading problems faced by children
Reading becomes a huge task for a child when he does not get the confidence to do it. Slow reading is the most common consequence that a child faces due to a lack of practice. This can only be overcome through daily practice.
Children get confused more often while pronouncing certain words. After a point, they start skipping the words they cannot read. To avoid this practice, they should be taught how to spell words correctly. This will improve their vocabulary as well as fluency while reading. 
Issues with interpreting sentences
Young children tend to read and understand the written language gradually. In school, the teacher interprets the sentences one by one. However, if this practice is continued for a longer time, this is a problem that needs a solution. So, to improve their comprehension skills, they should be asked to interpret a few sentences daily. 
How do Reading Eggs help children?
The Reading Eggs programme focuses on a core English language curriculum of skills and strategies essential for sustained reading, and comprehension success. By incorporating Reading Eggs into your child's daily routine, you will be helping to prepare them for the same structured learning they will need to succeed and feel confident at school.
Using the five essential keys to reading success, the programme unlocks all aspects of learning to read for your child. The programme is completely interactive to keep children on task. When children start the programme, they can complete a placement quiz to ensure they are starting at the correct learning level. Parents can access detailed progress reports as well as hundreds of full-colour downloadable activity sheets that correspond with the lessons in the programme. The programme includes over 3500+ online books for kids — each ending with a comprehension quiz that assesses your child's understanding. 
You may sign up your child for a 14 day free trial of the Reading Eggs programme by clicking on the button below,