Teaching your child Phonetic Alphabet Sounds with worksheets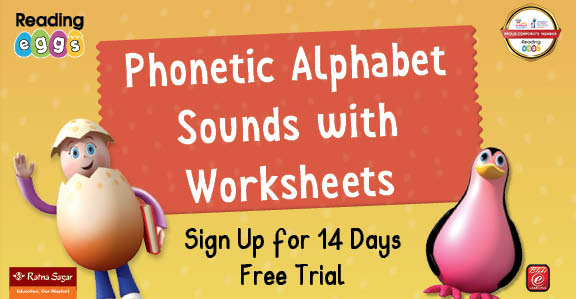 A complete guide of Phonetic Alphabet Sounds
The first step towards teaching sight words at home is learning to recognize letters and their sounds. Now, fluency in reading comes with the teaching of phonics. The concept of 100 sight words kindergarten and consonant blends should be covered in phonics worksheets. With creative phonics worksheets, the child develops a better understanding of words, for instance, the ones that start with 'sh' and end with 'ck', with some matching rhyming and identifiable letters of the alphabet.
A child learns to communicate from his home. Schooling prepares the child to learn and get familiar with the technicalities of the language. The English language has different rules to follow while writing and speaking. Initially, listening helps to grasp the words and their sounds. Many parents neglect to make their child into a keen listener while he begins to observe his surroundings. When it comes to teaching sight words for 4 year olds, the interrelation of sounds with the alphabet, phonic sounds with a complete set of worksheets helps them. The playful worksheets are an important tool to create phonological awareness in the child. 
Other than the phonic alphabet through worksheets, what helps in speeding the learning pace is using everyday life related questions. Go for a slow walk to the park with your child. Notice if he/she observes and labels the things around. Whether it's a tree, cat or flowers, the child tries to speak along with the rhyming word. For instance, 'the cat sat on a tree'. Here, 'cat' and 'sat' would be memorised by the child easily. And, when he/she identifies the correct object with the correct word, it means they are getting better with their phonics knowledge and vocabulary. 
For a child who is taking baby steps with my first sight words, speaking and understanding letters, the alphabet can be tricky for them. To make this learning process fun and a lot easier, these interactive sessions and activities with Reading Eggs will keep children attentive and inspired to learn more. With exercises, there are challenges and rewards. The assessments will help them understand their progress and areas of improvement.
Here are some sounds that make a complete phonics guide to help a child learn and practise. These different types of sounds of alphabet are:
Beginning sounds and blends
These are the most common beginning consonant blends: bl, br, cl, cr, dr, fr, tr, fl, gl, gr, pl, pr, sl, sm, sp, and st. 
Short and long vowel sounds are represented by the letters: a,e,i,o,u.
Any speech other than the vowel sounds are consonants. Children learn the beginning of consonant sounds and blends. 
By 'sounding out' simple words, children learn to distinguish one letter in a word from another.
Similar sounding words help in remembering multiple words at the same time. So, the rhyming worksheets and practice sessions support a better understanding of sounds. 

Some of the exciting phonics activities with Reading Eggs are:
1. Storylands
With a very connected approach of teaching children to read, listen and speak fluently, storylands has activities like 'words wizard' which introduces some interesting words to the child along with their meanings and proper usage. 
2. Spelling
Children have difficulty in understanding and grasping spellings. There are words which are spoken similarly but written differently. Reading Eggs brings them 96 such spelling lessons. The lessons prepare the child to grasp the correct spellings of words with their usage in sentences.
3. Driving tests
Driving tests are designed to give license to children in understanding and memorising sight words, letters and sounds and content words. The tests are prepared carefully to make it like a challenge for children to learn and succeed.
4. Story factory
Story factory is a free space for children to give wings to their imagination. Children are allowed to write their own stories.
5. Puzzles and awards
Reading Eggs has smart puzzles for children to solve and get rewards. Their progress is evaluated by these rewards and an assessment report is sent to the parents.
6. Fast Phonics
Fast Phonics is a complete course for teaching phonics to children. They have printable worksheets, activities and animation videos that can be visited by the child anytime. Fast phonics maps out every important aspect that helps the child to learn reading properly.
7. Library
Being a parent, you want to read books to your child. Reading Eggs has a library where you can read your child any book online. Choose the book that interests your child and start reading it to them. Moreover, when the child learns to read, he/she can practice reading books from the library.  The programme includes over 3500+ online books for children — each ending with a comprehension quiz that assesses your child's understanding. 
These phonics lessons with Reading Eggs are an important learning platform to use to help your child develop reading and comprehension skills, as the lessons cover concepts such as vowels, consonants, rhyming words and so on.
With a variety of puzzles, games, and hands-on activities, the children will never get tired of practicing and learning phonics with alphabet sounds. 
You may sign up your child for a 14 days free trial of the Reading Eggs programme by clicking on this button below.
Read more
Where are phonics classes available?