Phonics Sound Words with the Vocabulary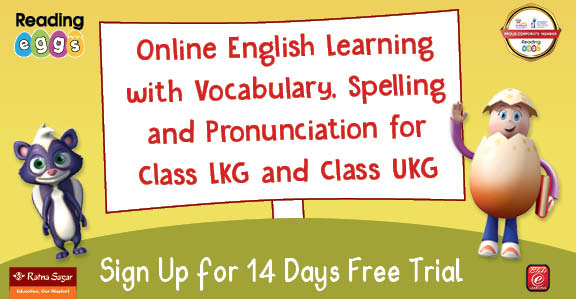 Online English Learning with Vocabulary, Spelling, and Pronunciation for Class LKG and Class UKG
Phonics Sound Words with Vocabulary – To speak English fluently in order to communicate your ideas, children need to develop a vocabulary which is also known as a word bank. It is an essential part of developing effective reading skills. A child in Class LKG and Class UKG must have Phonics sound words with the vocabulary of 300 words. There are read at home books that help the children to develop consistency and eventually develop knowledge of advanced reading and writing.
To learn new words and the English language in an easy and effective manner, the Reading Eggs Programme with Ratna Sagar uses games, animated activities, and animation to explain the word origin, word formation, pronunciation, meaning, and syllable separation in 96 spelling lessons along with 120 core lessons and 20 comprehension lessons, with each lesson containing 7 to 27 activities that make learning engaging, involving and fun.
Key Features
Suitable for ages 2 and above.
Covers 237 phonic skills and 200 sight words over Pre-Nursery, Nursery, LKG, and UKG.
Learn cross-subject concepts in Environmental Studies, Maths, and Rhymes.
1800 read-aloud eBooks with a short comprehension quiz.
Develops vocabulary, reading, writing, and listening skills.
Collect golden eggs, rewards, and certificates.
Available for all Android, and iOS devices including desktops and laptops.
Gamification of concepts to make learning multi-sensory, engaging, and involving.
Reading Eggs is created by a highly experienced team of primary school teachers, writers, and developers to help children become fluent and proficient readers. The multi-award-winning early learning resource supports your child's learning journey and sub skills of reading with carefully designed online reading games and activities that are easy to follow, self-paced, and highly engaging for young learners.
Book 14 days FREE trial for Reading Eggs with Ratna Sagar
The five essential keys to systematic learning of English, followed in the Reading Eggs Programme are:
1. Phonemic awareness –
Phonemic awareness refers to the ability to hear and manipulate the different sounds in words.
Children develop phonemic awareness by learning about sounds (phonemes), syllables, and words. Reading Eggs teaches phonemic awareness using a sequential series of skill-building activities that increase sound awareness.
The Reading Eggs programme teaches your child to recognise rhyme, match letters and sounds, and listen to how sounds work to make words.
2. Phonics –
The ability to recognise the connection between letters and the sounds they make.
Phonics is the process of mapping the sounds in words to written letters. This is a very important reading skill that all children need and features constantly throughout the Reading Eggs programme with Ratna Sagar.
Your child will learn how to decode words into sounds and encode sounds into words when they write and spell. This all happens within a wide range of activities that feel like games, to keep your child interested and engaged as they practice regularly. Each lesson ends with a book matched to your child's current ability, which lets them enjoy the thrill of reading on their own.
3. Vocabulary –
By developing vocabulary, the child can understand the meaning of words, their definitions, and their context.
Having a comprehension ability is a fundamental part of academic success. The more words we know, the better we are at reading and understanding the texts that we read.
Reading Eggs programme with Ratna Sagar increases the number of words your child understands and uses as part of their working vocabulary. Your child will be introduced to new words throughout the Reading Eggs lessons with visual supports to provide context and boost retention levels.
Book 14 days FREE trial for Reading Eggs with Ratna Sagar
4. Reading Comprehension –
Reading comprehension implies the ability to understand the meaning of the text – both in story books and information books.
Great readers are involved in the stories they read. They imagine the characters and the adventures they have. They think about what is happening and they share the emotional journey of the book's characters.
In non-fiction books, readers gain new information, increase their vocabulary and link what they read with other sources of information to deepen their levels of understanding of new topics and concepts. This all shows that the reader has rich comprehension skills of any text they read. This is a complex skill that requires time and practice to be able to successfully interpret the written sentences,
To build active reading comprehension skills, Reading Eggs programme with Ratna Sagar uses activities that scaffold your child's understanding with a wide range of pre-reading activities to ignite their thinking. They will progress from learning words and their meanings to reading for meaning, moving from learning to read to reading to learn.
5. Fluency
Fluency is the ability to read aloud with speed, understanding, and accuracy.
Many skills build reading fluency. These include good phonic decoding skills, an increasing bank of high-frequency words recognised at sight, and the amount of time children spend reading books at an appropriate level. The more children read, the better they are at understanding and reading with speed and accuracy.
Fluency is crucial as the child builds his reading skills which enhances his English speaking. Reading Eggs achieves this through instructional activities that build children's reading stamina. Just like any exercise programme where your fitness increases over time; reading is a skill that needs time, effort, and regular practice.
Reading Eggs makes this easy with a comprehensive programme that takes your child from being a non-reader, all the way through to reading long chapter books. The depth of the programme means that your child can continue their journey for as long as they need. Reading Eggs enables children to learn to read, and then helps them improve by building real, long-term reading skills, empowering them to become lifelong readers and learners.
Book 14 days FREE trial for Reading Eggs with Ratna Sagar
Learn more…
Phonics Classes Online For Beginners