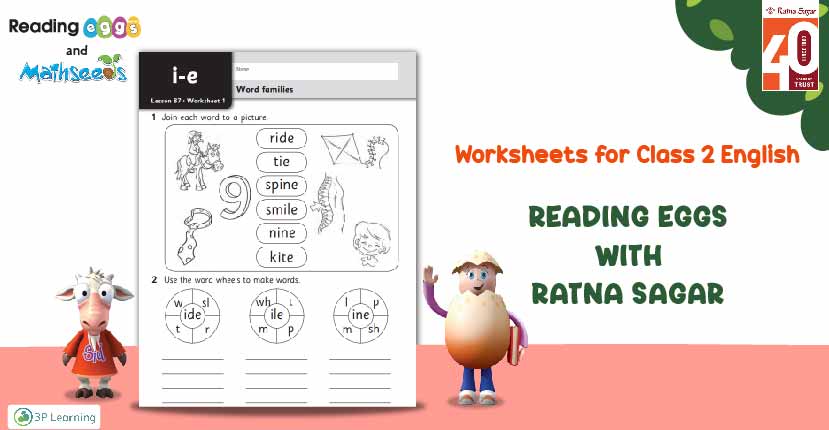 It is a universally acknowledged fact which states "All work and no play makes Jack a dull boy." Well, that is true. However, the study material and resources play a significant role in keeping the child attentive and engaged. Class 2 English worksheets are designed by experienced teachers and designers. These worksheets help the child develop core skills and retain the concepts in the longer run. Reading Eggs with Ratna Sagar is India's first online programme empowered with animated lessons, videos, workbooks, and worksheets. The English worksheets for Class 2 are compatible with Class 2 CBSE and other national boards' syllabus. An English worksheet for Class 2 addresses the critical areas of the English curriculum that can be assessed and need improvement. 
Available in easily downloadable and printable PDF Format
Class 2 English worksheets are resourceful in motivating children to learn and revise in a playful manner. These worksheets also have solutions so that the child can learn from his mistakes. The overall understanding of concepts is ensured along with developing the reading and English speaking skills of the child. Class 2 English worksheet aids to provide a platform which is easily accessible and affordable to the parents and teachers. Reading Eggs focuses not just on improving the academic proficiency of the child, but also on the overall personality of the child. The team has always aimed at providing the best learning experience to children. The curriculum is well-structured and researched as well as visually appealing; fun-filled exercises boost vocabulary and reading comprehension.

FREQUENTLY ASKED QUESTIONS
1. What are worksheets?
Ans. Worksheets are creative practice exercises from a subject based on an individual topic to improve understanding of the same. 
2. What are Class 2 English worksheets used for?
Ans. Worksheets for Class 2 aid the child in inculcating knowledge through simple questions and answers and fun-filled practical assignments.
3, Are Class 2 worksheets effective in improving my child's handwriting?
Ans. Definitely! Reading Eggs worksheets are available in a printable format which can be printed and the child can quickly fill in the answers and improve his writing skills. 
4. What is the importance of solving worksheets for Class 2 students?
Ans. The most obvious benefits that the students can avail from English worksheets are: 
English worksheets make the child aware of the questions and answers format.

These help them to get familiar with grammatical concepts.

These help them to memorise the topics.
5. How can I find Class 2 worksheets?
Ans. You can simply visit the Reading Eggs website and avail the 14-day free trial. There is a students' and teachers' dashboard from which all the study and practice resources can be accessed. 
Book 14 days FREE trial For Reading Eggs with Ratna Sagar
You can find the sample worksheets for class 2 English: