How to guide a child to read at home?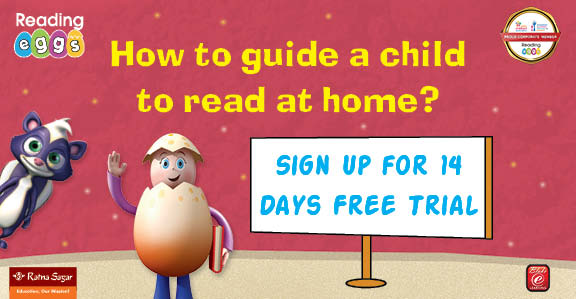 How can parents improve their child's reading skills?
Comprehension skills, sub skills of reading, comprehension ability, effective reading skills, read at home books, improving reading skills in english, handbook for reading, advanced reading and writing
There is always a creative calling inside every child and that too begins with his desire to read, speak and understand. Children between the ages group 3-5 are quick adapters which is why it becomes important for parents to develop and cultivate effective reading skills in them. 
A child's first school is home. 
Children are unaware of the hierarchy of reading, speaking, and then understanding things. Their basic interaction begins by observing elders and imitating their actions. Parents play an important role in improving reading skills in English and teaching them the way of the world i.e., language and its fundamentals.
Effective reading skills are core, to begin with, in the process of learning.
To teach a child advanced reading and writing properly, these are some effective methods that introduce the significance of literacy and the thrill of learning more in their language.
Reading and identifying texts
As your child takes baby steps when he learns to walk, the same rule applies to teaching him how to read. Start with reading him stories and lessons aloud. It will allow the child to listen carefully and imitate the same while speaking. Some of the books that parents can refer to are:
Songbooks

Short- stories books

Alphabet books

Rhymes books

Fun activities
The next step involves identifying letters and the alphabet. By pointing out individual letters and their sounds, a child recognizes the alphabet and words slowly. 
Children get very excited when it comes to fun games and activities. This love for games can be utilised for learning and developing reading skills. Do you wonder how quickly a child learns a poem rather than some simple sentences? It is because they take it as a game rather than any assignment. So, by introducing some fun games, children can easily learn to read. The most common activity is to read similar sounding, rhyming words and word games with them. Word games are every child's favourite. This way they learn multiple words in one go. 
Improving reading skills in English requires daily engagement. It can be in the form of storytelling. Every child has a future author inside him. An interesting approach is to ask them to describe the fantastic stories that they have read. In this way, they learn to speak well. Ask questions about their stories. Most of the children are tackling speaking difficulties. The lack of daily practice and proper learning might be a major consequence. Devoting some time daily to the child to read from the book will help him in getting better at speaking, listening, and understanding. Another daily exercise that is best for children is to ask them to observe things around and speak. For instance, if you ask 'do you see that dog?' Now, while answering such questions, children also develop an understanding of the objects being referred to.
When it comes to the smallest and unique sounds, reading helps a lot. The child learns to spell words. A phoneme is the smallest sound in English. These sounds have consonants, short vowels, and digraphs. The child learns to inculcate them within a word. Phonics has become another important element of reading and spelling words. It is important to teach children the rules of phonics and comprehend the pronunciation of the words. 
You can get bored with books and reading material. It is time to get creative with the process of learning. To re-shape your child's perspective towards reading and learning, parents can get creative with playful materials like clay, letter molders, and PlayDoh. It is a better way to involve them in creative artwork. 
These methods will surely help parents to develop effective reading skills in a child. It can be achieved through regular practice and engagement. As the child improves, parents can adjust  the skills from moderate to advanced reading and writing. 
Bonus points to begin reading at home for kids
With a developed habit of reading at home, children tend to develop a sense of understanding. Reading enhances their imagination and widens their perspective to look at the movement of objects around them. There is no doubt that every child has a favorite book that he wants to read or listen to during bedtime. They ask questions, think deeply and express their thoughts. So, reading at home develops listening skills and puts together the rhythm and flow of language to become a part of their lives naturally. 
Why are parents adopting technology & culture of reading at home?
With an organized pattern of learning, technology has a proven positive impact on student learning. Every day, new technological advancements are making their way into our lives. Parents can provide a meaningful learning experience to their children by adopting technology. Schools are relying on technology to give students a better learning experience. Moreover, e-learning is also economical as compared to offline tuition costs. It becomes easy to evaluate the performance of your child with e-learning. And most importantly, we are becoming a part of this tech culture and with this learning enhancement,  there comes creativity, freedom of expression, and perseverance.
How does Reading eggs help to read at home?
The Reading Eggs programme focuses on a core English language curriculum of skills and strategies essential for sustained reading, and comprehension success. By incorporating Reading Eggs into your child's daily routine, you will be helping to prepare them for the same structured learning they will need to succeed and feel confident at school.
Using the five essential keys to reading success, the programme unlocks all aspects of learning to read for your child. The programme is completely interactive to keep children on task. When children start the programme, they can complete a placement quiz to ensure they are starting at the correct learning level. Parents can access detailed progress reports as well as hundreds of full-colour downloadable activity sheets that correspond with the lessons in the programme. The programme includes over 3500+ online books for kids — each ending with a comprehension quiz that assesses your child's understanding. 
You may sign up your child for 14 days free trial of the Reading Eggs programme by clicking on the below button.
It takes a village to raise a child and definitely a whole set of online learning techniques and a digital library to help the child develop a love and passion for reading.
Read more.
Phonics Classes Online For Beginners